About Us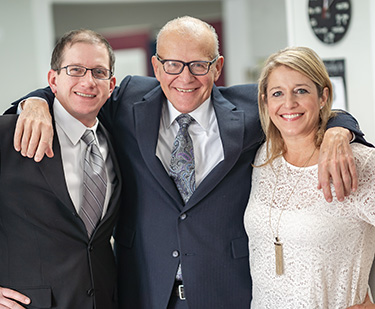 When Dr. Paul Rumph was going to open Rumph Chiropractic Clinic, he initially thought he would have an office on the east side of Detroit. At the time, he lived with his in-laws on Williams Lake, and drove by their current office location every day. He decided that Waterford was actually where he was meant to practice.
Read more about the history of Rumph Chiropractic Clinic.
Rumph Chiropractic Clinic opened in May 1975, sharing a birthday with Dr. Becky Rumph-Pender. Today, she and her brother Dr. BJ Rumph provide natural family health care to all ages in our community.
Our Mission
To assist people in reaching their optimum health potential through education, truth and chiropractic care. To love, serve, give and teach.
Welcoming All Ages
We see babies, senior citizens, office professionals, automotive workers and everyone in between. Since our chiropractic care office has been around for so many years, we're fortunate to care for multiple generations of people from the same family, from children up to great-grandparents.
Finding What You Need
We believe in providing you with an education about your well-being along with your health care. That's why when you first come in, we perform a thorough examination, take X-rays and gather a wealth of information. From this data, we can determine the source of your problem and how best to help you. You'll be fully informed along the way, involved in your care at every step and learning about how to stay well in the future.
MEET THE TEAM »
Your Health Care Is Always Your Choice
We believe in taking a proactive approach to your health and preventing problems from occurring. That's why we encourage our patients to consider wellness care when they're feeling better. We'll never pressure you to have long-term care if you don't wish to. You can come to us for as few or as many visits as you want, and we're happy to serve you in any capacity.
Contact our friendly team today to schedule your appointment! Complimentary consultations are available.

About Rumph Chiropractic Clinic | (248) 673-1215