Massage Therapy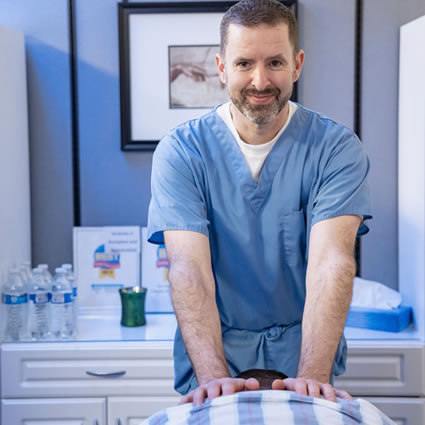 Massage has been practiced for thousands of years. There are numerous styles using a variety of pressures, movements and techniques. All involve pressing, rubbing or manipulating muscles and other soft tissues with hands and fingers.
The health benefits available from massage therapy are many. More people are incorporating it into their wellness routine and help get relief from injuries.
Why Do I Need Massage Therapy?
At Rumph Chiropractic Clinic, we understand that people benefit in a number of ways from combining chiropractic and massage therapy. Both therapies work together simultaneously, creating a synergistic effect resulting in a much faster recovery time.
Correction of one's structure often occurs more easily and with less discomfort. The positive effects of chiropractic last longer when muscle tension, that might pull one's structure out of alignment, is released.
It's easy to see how the two therapies complement each other. Both offer hands-on, drug-free techniques that can be used as preventative and restorative therapies. Used in combination, they can help you maintain optimum health and enjoy life to the fullest.
How Can I Benefit?
Massage therapy has been found to help with:
Pain relief
Stress reduction
Help rehabilitate sports injuries
Decrease anxiety and depression
Increase relaxation
Erik, our licensed massage therapist, has been helping people for 18 years. He has provided skilled treatment to the Detroit Lions, The Michigan University swim team, IMG Academy and many others. Voted by The Oakland Press as the "Best of the Best" four years in a row, we're happy to have him on our team.
Erik helps people feel better by decreasing their pain and stress while increasing their emotional and psychological wellbeing. He loves seeing their progress and improvements after receiving his care. Patients trust him to work on their families and friends.
Erik will do a short interview with the patient to find out what's going on with them. Based on this, and any collaboration with their doctor, he'll determine what techniques are best. With so many massage types – Swedish, Deep Tissue, Lymphatic and Sports, just to name a few, you can be sure to receive the right one for you.
Swedish massage is a type of massage that uses long, flowing strokes to relax the body. It is a very gentle form of massage, and is often used to help relieve stress and tension headaches. Swedish massage can also help increase blood flow and reduce swelling.
Deep tissue massage is a type of massage that uses slow, deep strokes to reach the inner layers of muscle tissue. This type of massage is often used to treat chronic pain, such as from a sports injury or arthritis. Deep tissue massage can also help improve blood circulation and reduce stress.
Lymphatic massage is a type of massage that helps to encourage the natural movement of lymph fluid around the body. This type of massage can be helpful in reducing swelling, improving immunity, and helping to detoxify the body.
Pregnancy massage is a type of massage that is specifically designed to help relieve the discomfort and pain that can come with pregnancy. This type of session can help to increase blood flow, reduce swelling, and improve circulation. Pregnancy massage can also help to ease muscle tension and headaches, and especially address hip or pelvic pain.
Sports massage is ideal for athletes of all skill levels, especially those who may deal with frequent injuries that they can't seem to get under control. During this type of session, we'll talk to you about your goals and address your problem area. We can also target things like your gait as we work to balance the muscles to ensure everything is firing correctly. Athletes who have undergone a session have noticed improvements in quickness and speed.
Frequently Asked Questions
What are the benefits of massage therapy?

Massage therapy has a number of benefits, including reducing stress and anxiety, relieving pain, improving circulation, and more.

Do massages hurt?

No, massages should not hurt. If you feel pain during a massage, be sure to tell your therapist so they can adjust their pressure accordingly.

Will I be sore after a massage?

It's possible that you may feel a bit sore the day after a deep tissue or sports massage. This is usually due to the release of tension in the muscles. Drinking plenty of water and getting some rest can help to reduce any soreness.

How often should I get a massage?

How often you should get a massage depends on your individual needs. Some people may benefit from getting a massage once a week, while others may only need one every month or so.

What types of massages are there?

There are many different types of massages, including Swedish massage, deep tissue massage, lymphatic massage, pregnancy massage, and sports massage.

How long does a massage session typically last?

Most massage sessions last between 30 and 60 minutes.

Will I need to undress completely?

We will never make you undress completely if you are uncomfortable with that. We will work with you to ensure your needs are met. Patients only need to undress to their level of comfortability.

Book Your Appointment Today
Massage therapy can help you get the results you want and deserve. Don't put it off any longer; contact us today to make an appointment. We're looking forward to meeting you.
CONTACT US »

Massage Therapy in Waterford, Clarkston, White Lake, and Pontiac MI | (248) 673-1215